Der Sommer hatte es in sich, nicht nur mit seinen Temperaturen: Von Ende April bis zur zweiten Oktoberwoche habe ich mir, mit nur kurzen Unterbrechungen, buchstäblich die Finger wund gespielt. Neben Auftritten mit den üblichen Verdächtigen wie Bun-Jon & The Big Jive, Dennis Durant, Shreveport Rhythm, The Porthounds, der SwingING BigBand und verschiedenen Besetzungen zusammen mit Norbert Susemihl waren auch eine ganze Menge Auftritte mit Bands, bei denen ich den oder die Schlagzeuger*in vertreten durfte, dabei. Einer dieser Auftritte war beim Open Air Ballroom in den Herrenhäuser Gärten in Hannover mit der Bigband Fette Hupe, bei der ich kurzfristig für Christin Neddens eingesprungen bin – sehr aufregend und ein Highlight zugleich.
Anfang Oktober durfte ich auch mal wieder auf der MS Europa gastieren. Trotz der ein oder anderen Widrigkeit war es eine wunderbare Zeit auf dem wahrscheinlich besten Kreuzfahrtschiff der Welt.
Bei meiner Unterrichtssession bei meinem Lehrer und Mentor Claus Hessler haben wir uns unter anderem mit Passagen aus seinem Buch "Camp Duty Update" beschäftigt. Als er mir ein paar dieser Stücke auf zwei verschiedenen Rope Tension Drums vorgespielt hat, war es um mich geschehen und das Glück war mir hold. Darf ich präsentieren, meine neue Errungenschaft, eine 15" x 17" Rope Tension Drum von Cooperman – was für eine Wahnsinnstrommel: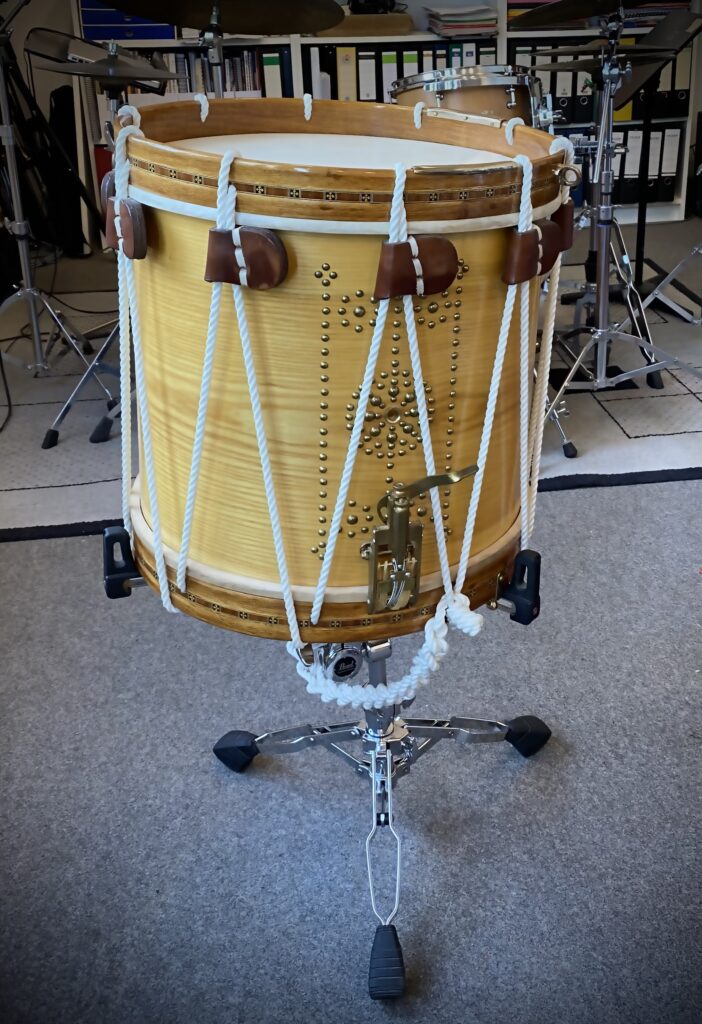 Während der Oktober etwas entspannter daherkam, haben sich der November und Dezember doch mehr gefüllt als erwartet.
The Porthounds spielen am 11.11. im Mones in Bad Segeberg, am 26.11. im Vakuum in Bad Bevensen und am 10.12. im Suhrhof in Hamburg-Bergedorf.
Shreveport Rhythm sind am 12.11. beim Dockside Swing im Nochtspeicher, am 24.11. in der Parkresidenz Alstertal sowie am 25.11. und 16.12. im Cotton Club.
Dennis Durant spielt am 19.11. im Casino Esplanade und an Silvester in Wyk auf Föhr.
Bun-Jon & The Big Jive bittet am 9.12 im Cotton Club und am 18.12. in De Rijp, Niederlande, zum Tanz.
Außerdem spielt die SwingING BigBand am 12.12. in der Honigfabrik und auch das alljährliche Konzert der Papa Tom's Lamentation Jazzband findet am 19.12. wieder im Cotton Club statt.
Wenn da nicht für jeden was dabei ist, weiß ich es auch nicht.
Alle Details findest du wie immer unter Termine.
Stay tuned, stay healthy, be happy
Matthias