Der September geht gleich zu Beginn gut los. Den Auftakt macht Bun-Jon & The Big Jive am 03.09., um 19 Uhr, bei der Jazz Nacht in der Kieler Altstadt und am 4.9., ab 15 Uhr, in Planten un Blomen in Hamburg. Da bekanntlich alle guten Dinge drei sind, spielen wir am 11.9., auch ab 15 Uhr, zum 35 jährigen Jubiläum des Goldbekhauses. Und das Beste daran ist, alle drei Konzert-Partys haben freien Eintritt.
Am 9.9. spielt ROCKSIN einen sogenannten Secret Gig in Kiel. Idee des Ganzen ist es, ein Konzert mit zwei Bands zu veranstalten, bei dem die Käufer der Eintrittskarten nur grob eine musikalische Richtung für den Abend erfahren. Wir sind gespannt, Ihr auch?
Shreveport Rhythm fährt am 10.9. nach Sparkensehl, um Euch dort ab 20 Uhr in der Konzertscheune vom Röhlings Hof ordentlich mit Hot Jazz & Swing einzuheizen. Am 17.9. sind wir wieder zu Gast im AROSA Hotel Travemünde. Wer möchte kann dort, auch als nicht Hotelgast, ab 21 Uhr zu unserem Konzert kommen und einen Drink in der Hotel Lounge genießen. Shreveport Rhythm spielt am 8.9. ausserdem auch eine Feier zu einem Firmenjubiläum – auch dafür sind wir zu haben :-). Wer mehr über Shreveport Rhythm wissen möchte, ist herzlich eingeladen, sich mal auf der brandneuen Webseite umzuschauen. Dort findet Ihr nun auch alle Infos und Buchungsdetails für die USA Jazz History Tour.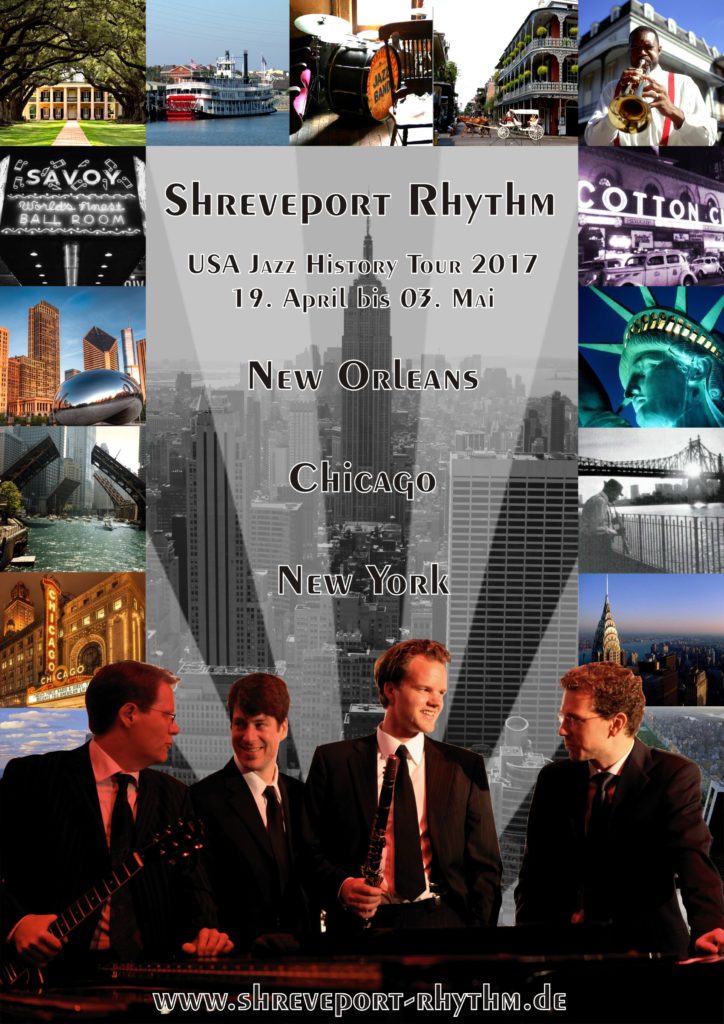 Und Miss & The Mojos spielt wieder eine Hochzeitsfeier. Authentische Soul Musik der 60er Jahre läßt selbst bei noch so unterschiedlichen Gästen kein Bein unbewegt. Infos zu dieser Band findet ihr HIER.
Alle Termine und Details zu den Veranstaltungen und Konzerten findet Ihr wie immer unter Terminen.
Stay tuned
Matthias